Diamond Mist is a UK-based vaping brand marketing premium quality e-liquid, vaping devices, and accessories at a bargain price since 2010. Though the brand is well known for its delicious e-liquid, they also make vaping devices like starter vape pen, starter mod kit, vape tanks and coils. They work extremely hard to make sure all of their products are of top quality and comply with all the vaping regulations in UK. To ensure quality, all of the diamond mist liquids are prepared completely in a UK based factory and use only the finest quality ingredients.
Product Range
Diamond mist Liquid has over 40 flavours and most of these come in the form of freebase, nic salt and disposable pen/bar. Though most of the liquids come in nicotine options of 0mg, 3mg, 6mg, 12mg and 18mg, their disposables come in 0mg and 20mg and the Nic Salt in 10mg and 20mg only. In addition to 10ml bottles with vg/pg ratio of 50/50 or 70/30, Diamond Mist also has the option of 50ml, 0mg short fill with a vg/pg ratio of 70/30. The brand also does two vape kits. BRIX, a mod kit with buitl-in 1500mAh battery and fires between 5-50 watts. EQS, a pod kit with refilable pod. This kit comes with 3 bottles of 10ml liquid and ideal for a complete novice user.
Diamond Mist Price Range
Freebase 10ml bottle: Single bottle may cost between £2.99 to £2.30. 10 bottles may cost £2.00 each
Nic Salts: Single bottle may cost between £2.99 to £2.30. 10 bottles may cost £2.00 each
Disposables / Bars (DM and XTRA): Single bar may cost £8.99 but some retailer may sell these at £4.50 as clearance
Vape Kits: Brix may cost £25.00 and EQS £12.00
Standard/Freebase Liquid Range
Standard or Freebase Vape Juice comes in 10ml bottles. The VG/PG ratio is 50/50 however, the lower nicotine level of 3mg and 0mg may come in the VG/PG ratio of 70/30. Where the 50/50 liquid are suitable for most vaping device including the lower wattage ones, the 70/30 should ideally be used with higher wattage devices, ideally over 50 watts. Though all of the variants come in the nicotine strength of 6mg, 12mg, and 18mg, some also comes in 0mg and 3mg.
Apple: Apple flavour in 10ml bottle. Available in omg, 6mg, 12mg and 18mg
Banana: Banana flavour in 10ml bottle. Available in omg, 6mg, 12mg and 18mg
Biccy Baccy: Tobacco and creamy flavour. Though its says tobacco, the flavour is not same as conventional cigarette. Comes in 0, 3, 6, 12 and 18 mg nicotine strength.
Black Jack: Menthol, sweet and light aniseed flavour in 0, 3, 6, 12 and 18 mg nicotine strength.
Blackcurrant: The liquid is available in the nic strength of 0, 6, 12 and 18 mg.
Blueberry: Blueberry flavour in 0, 3, 6, 12 and 18 mg nicotine strength.
Bubblegum: Available in the nicotine strenth of 0, 3, 6, 12 and 18 mg.
Cafeto: Creamy Coffee flavour with 0, 3, 6, 12 and 18 mg nicotine strength options.
Cherry: Available in 0, 3, 6, 12 and 18 mg nicotine strength
Cola: A candy sweet with a cola aftertaste. Available in 0, 3, 6, 12 and 18 mg nicotine strength.
Cool Mint: Sweet spearmint flavour. Available Nicotine options are 0, 3, 6, 12 and 18 mg.
Double Apple: Stronger sweet apple flavour. 0, 3, 6, 12 and 18 mg nicotine strength.
Energy Drink: A sweet flavour with 0, 6, 12 and 18 mg.
Fruit Mix: The flavour resembles a sweet fruit salad. Available in 0, 6, 12 and 18mg
Gobstopper: A sweet tart flavour in 0, 6, 12 and 18mg.
Gold & Silver: Diamond Mist Gold And Silver is an extremely popular tobacco flavour with very little sweetness. This flavour comes in a nicotine strength of 0, 3, 6, 12, and 18mg.
Good Ribes: Blackcurrant beverage flavour . Available in the nic of 18, 12, 6, 3 and 0mg.
Grape: Flavour of grape with 0, 6, 12,18mg.
Iceberg Menthol: Strong menthol flavour. 0, 6, 12, and 18mg Nic options
Iron Brew: Strong sweet mix fruit flavour, 0, 3, 6, 12, and 18mg
Lemon and Lime: This liquid comes in 0mg, 6mg, 12mg and 18mg. Sharp tangy lemon and lime flavour
Lemon: Smell and flavour of lemon, 0mg, 6mg, 12mg and 18mg.
Mango: Nicotine options of 0mg, 6mg, 12mg and 18mg.
Menthol: Basic menthol flavour that can be mixed with flavours. Nicotine: 0mg, 6mg, 12mg and 18mg.
Midnight Mist: Available in 0mg, 6mg, 12mg and 18mg and has the flavour of a blend of grape, lemon and fruit.
Mist: Sweet minty flavour.
Orange: Sweet and sour orange flavour.
Peach: The flavour resembles to peach
Pineapple Coconut Rum: A pinacolada flavour e-liquid
PM Violet: Fruity purple sweet flavour.
Project X: A popular menthol-infused fruit flavour
Rainbow Candy: A sweet and sour mix candy flavour
Raspberry & Menthol: Fruity Raspberry infused with menthol flavour
Raspberry: Basic raspberry flavour liquid
RY4: Caramelized tobacco flavour. Sweet and heavy.
Silver Mist: Diamond Mist Silver Mist is a light tobacco flavour
Softcut: A light sweet tobacco flavour vape liquid
Spearmint: Light sweet menthol flavour.
Strawberry: Basic strawberry flavour.
Summer Breeze: A sweet minty strawberry flavour
Toonz: Diamond Mist Toonz is very popular fruity menthol flavour liquid.
Tutti Frutti: Creamy mix fruit flavour
Vanilla: A basic sweet vanilla flavour.
Vanilla Custard: A bit heavier in taste than Vanilla flavour.
Vimmy: A flavour of grape, berry and sharp raspberry
Virginia Mist: Tobacco flavour. Should not expect this to be the same flavour as of Virginia tobacco roll-up.
Watermelon: A basic watermelon flavour
Nic Salts
The nicotine salts comes in 10ml bottle and has the same flavour as of Freebase liquid. The liquid has the options of 10mg or 20mg nicotine strength
Shortfills Flavour Range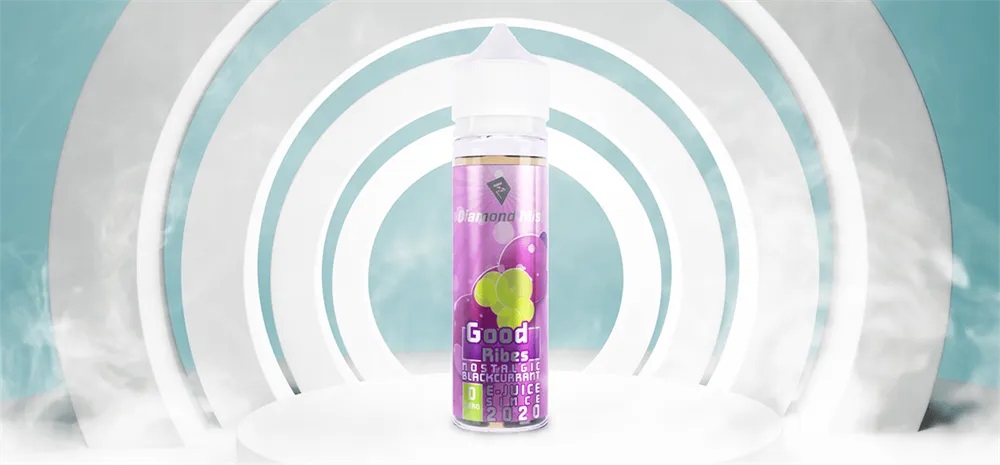 Diamond Mist shortfills come in a bottle of 60ml with 50ml liquid and 10ml space to add nic shots if you prefer the vape liquid with a small nicotine presence. The shortfill itself come with a 0mg nicotine so that this can be enjoyed nicotine free in shisha as well as in vape kits
Good Ribes: Available for a limited time this is a punchy blackcurrant flavour.
Alo Alo Alo: Sweet vaping experience
Cactus Cooler: Sweet cool minty flavour
Icento: Minty hazelnut flavour
Mango Bliss: Basic mango flavour
Melonix: Flavour of a medley mix of watermelon, honeydew galia melon, cantaloupe melon and canary melon
Pink Mango: A mango flavour with a twist.
Pink Naranja: A mix of Nectarine, Tangerine, and satsuma oranges flavour
Pink Project: A strong pink grapefruit flavour
Pinkcurrant: A redcurrant flavour with a twist
Sour Apple: A sour apple taste
Diamond Mist Disposables/Bars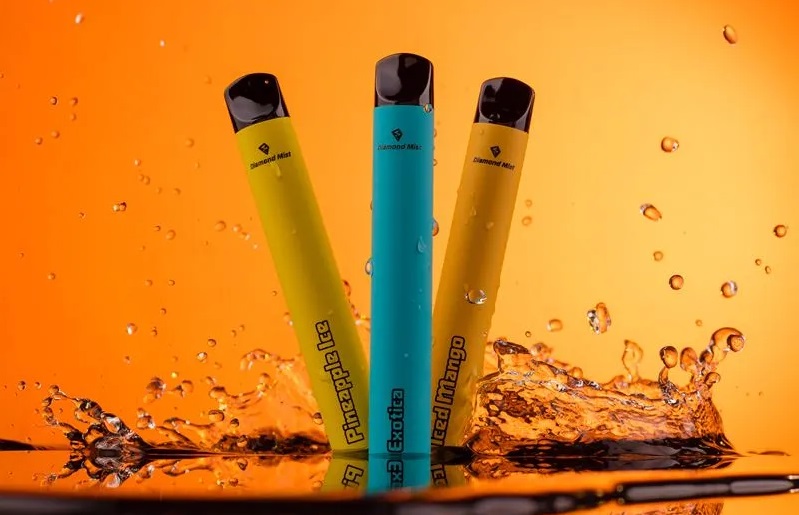 Diamond mist Bars come in 2 form factors. DM Bar which is 20mg nicotine strength disposables. DM Bar has 400mAh battery, 1.8 Ohms coil and is equivalent to 39 Cigarettes. Diamond Mist XTRA comes with 0mg Nicotine Strength, 1100mAh battery and can last up to 4500 puffs.
DM Bars Flavour Range
Grape Ice disposable e-cigarette, cool juicy grapes freshly squished ready to vape.
Lychee Ice disposable e-cigarette, a cool iced take on this delicate exotic fruit.
Blue Razz disposable e-cigarette, sharp raspberry mixed with fresh sweet blueberry.
Lush Ice disposable e-cigarette, a cool sweet mix of melons and berries.
Strawberry Ice Cream disposable e-cigarette, fresh blended strawberries and vanilla ice.
Pineapple Ice disposable e-cigarette, refreshingly cool sweet & sour pineapple.
Banana Ice disposable e-cigarette, fresh ripe banana on the inhale, with a cool breeze on the exhale.
Refreshing Mint disposable e-cigarette, a sweet blend of mint with a cooling sensation.
Diamond Mist XTRA Flavour Range
Banana Ice
Bluerazz
Grape Ice
Iced Mango
Lush Ice
Lychee Ice
Orange Soda
Pineapple Ice
Refreshing Mint
Strawberry Ice Cream
Pink Lemonade
Black Forest Fruits
Berry Blast
Pink Strawberry
Strawberry Apple Watermelon
Orange Mango Guava
Exotica
Havano Vanilla
New Yorker Cheesecake
Candy Floss
Cherryade
Passion Fruit
Rainbow Lolly
Strawberry Milkshake
Diamond Mist Pros
The best thing about Diamond Mist is the availabilty of its wide range of flavours. There is always a flavour that you will like. Also, If you are on Diamond Mist, you will not need to change to other brand if you are moving from Freebase to nic salt or vice versa as both variants have the same flavour profile. In terms of pricing, DM markets it's liquid at a very low price. So if you want a decent liquid with a reasonable price, Diamond mist could be a good option specially when buying 10 bottles.
Diamond Mist Cons
Though the brand has wide range of flavours, a lot of flavours taste almost the same. It's worth mentioning which is true for tobacco flavour of all brands that though some flavour are called tobacco these are not replica of actual cigarrette flavour as many will think.